The latest lesbian series from award winning producers of girlsway is finally here. Written and directed by Bree Mills, GIRLCORE pays homage to the great lesbian pulp stories of yesterday. GIRLCORE brings you thrilling high definition, and cinematography that will make you homesick for the 80s.
Each of the 6 episodes feature a standalone story, to a soundtrack by Pilotpriest. With favorite Lesbian Predators (Abigail Mac, Carter Cruise, Ryan Keely, Alexis Fawx, Kristen Scott, Casey Calvert, Sarah Vandella, Angela White, Emily Willis, Aidra Fox and Kenna James) on the hunt for innocent women (Scarlett Sage, April O'Neil, Georgia Jones, Jenna Sativa, Shyla Jennings, Whitney Wright, and Cherie DeVille), GIRLCORE is sure to trigger your hunger for the chase. GIRLCORE offers an overdose of nostalgia from a time when lesbians lurked in the shadows.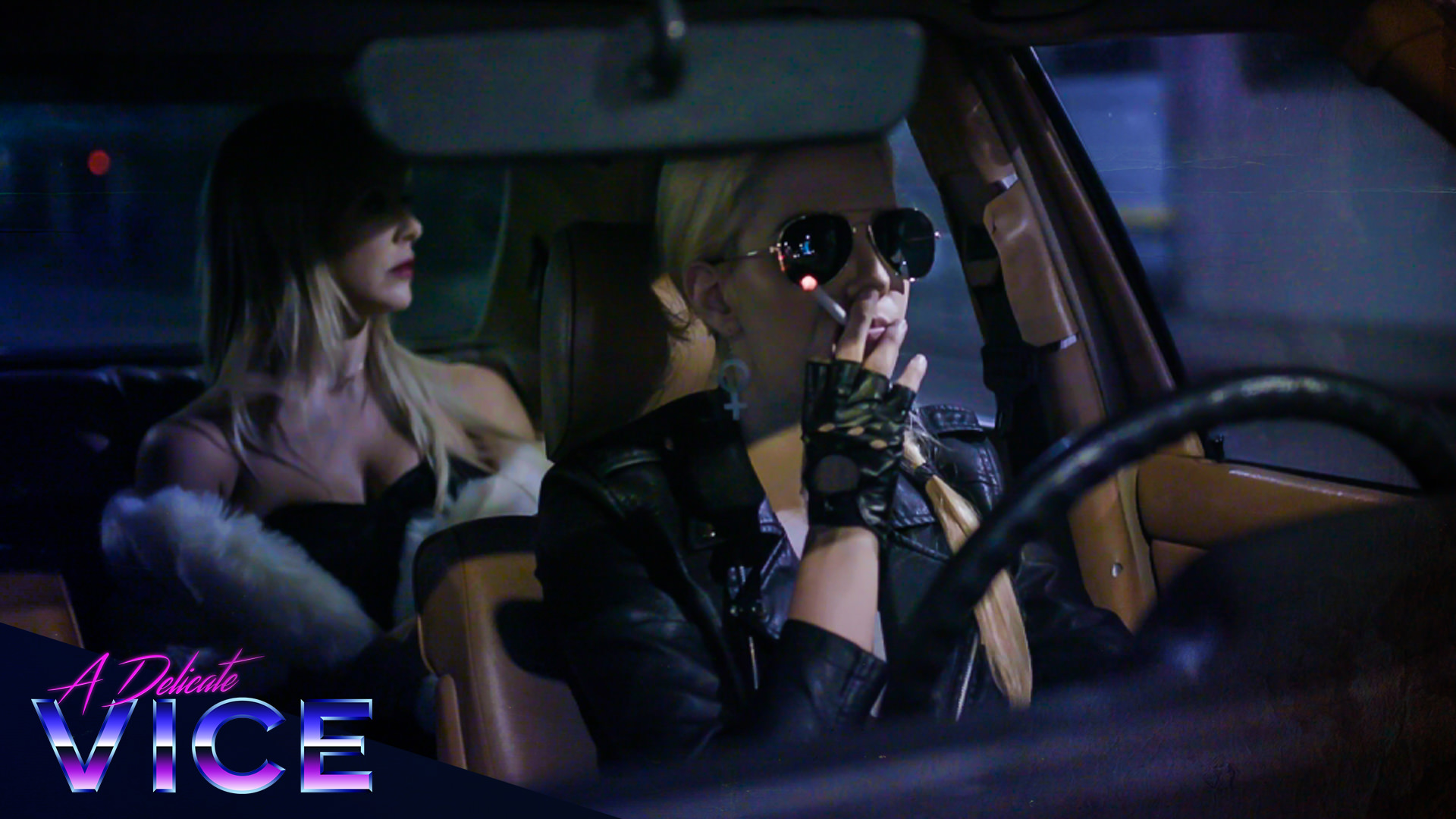 Girlcore | S1 E1 | A Delicate Vice, Scene #01
Starring
Cherie DeVille
,
Kenna James
Cat (Kenna James) sits in a dark car parked on the side of the road, watching the quiet sidewalk. She's patiently waiting for someone, and that someone is Allison (Cherie DeVille).Allison appears, dressed in faux fur and high heels with her lips painted red-light district red. She climbs into the back of Cat's car, counting a wad of cash before slipping it into her purse. Cat is silent and the tension between them is as thick as smoke as Allison insists that Cat really doesn't need to drive her around everywhere. Cat calmly responds that she's just keeping her safe, then drives to the next location.Although Cat has to sit idly by as Allison beds strange men, her mind is filled with memories of THEM wrapped sensually in each other's embrace. She can still taste Allison's pussy on her lips and feel the weight of Allison's breasts in her hands. Cat's bedroom wall is plastered with photos of Allison in seductive poses after their nights of passion. Most of them are with Allison on her hands and knees, her body glistening in the aftermath of their sex. She is infatuated with Allison, wishing she could do more to help get Allison out of this rough patch in her life. Sometimes it seems like Allison doesn't WANT help, though, but Cat's loyalty -- perhaps obsession -- is unwavering.As Allison climbs into the car again after her second John of the night, she hands Cat a piece of paper relaying an address. Cat's calm, almost indifferent exterior shatters as she protests against the next location, which is in the warehouse district. Nothing good ever happens there. Cat desperately offers help once again to get Allison away from this lifestyle, but Allison mocks her. 'What are you going to do? Take more pictures of me?' The fantasy of them being passionately in love is quickly unravelling, showing the true nature of their twisted relationship.Defeated but still not wanting to let go of Allison, Cat reluctantly drives her to the warehouse. A man in a suit is standing outside of large warehouse doors filled with graffiti. Allison climbs out of the car, not giving Cat a second glance, as she takes the man's hand and slips inside the building.Cat waits as patiently as she always does, although she's near her tipping point. Everything is falling apart and Allison's slipping through her fingertips. Everything she hoped for really is nothing more than a fantasy.When Allison returns a short while later, sobbing against the backseat and begging for Cat to just DRIVE, Cat finally snaps. She climbs out of the car and opens the trunk, her eyes falling upon the object that will finally put an end to everything.After all, she's just keeping Allison safe.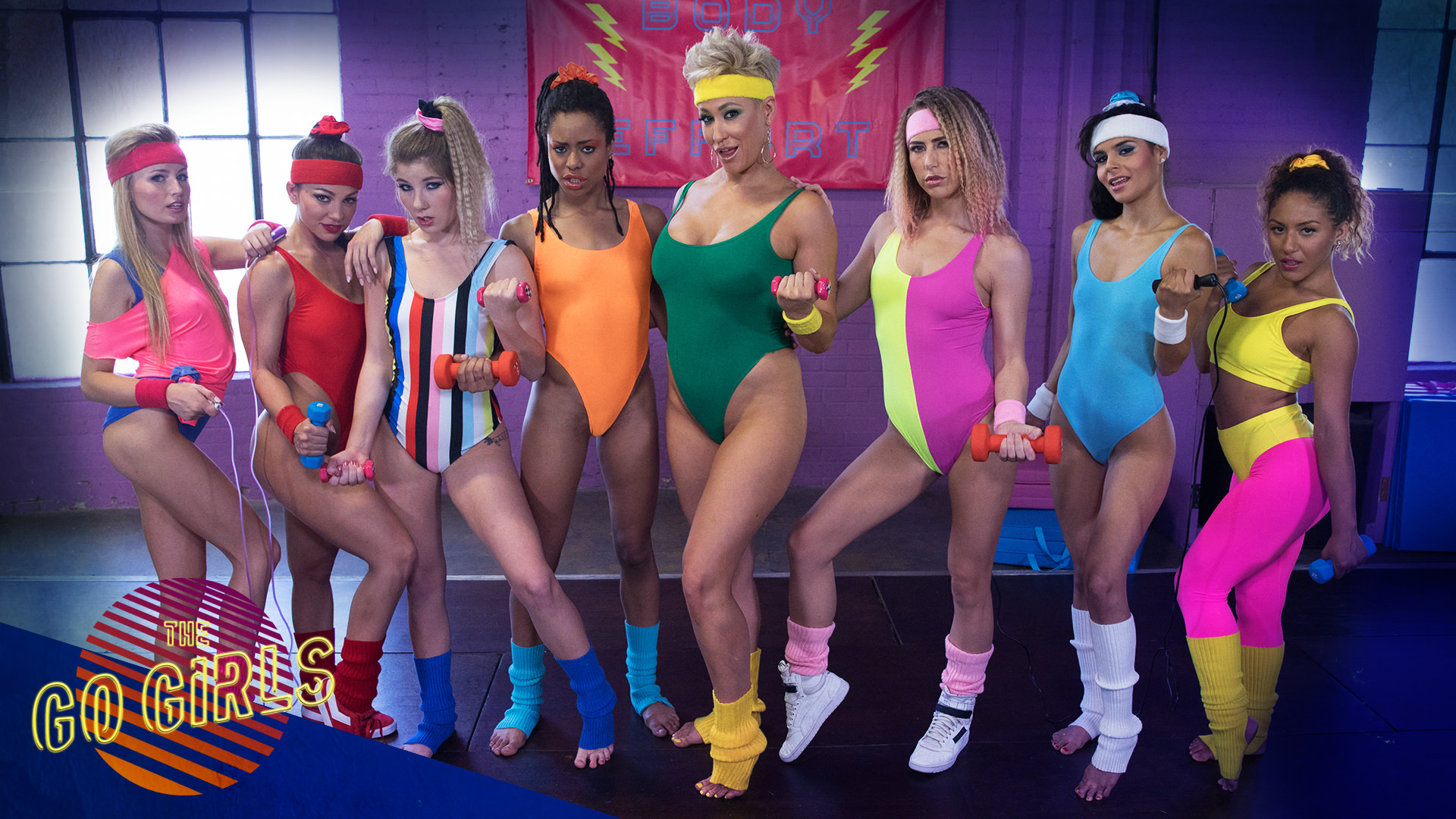 Girlcore | S1 E2 | The Go Girls, Scene #01
Starring
Carter Cruise
,
Abigail Mac
,
Scarlett Sage
,
Ryan Keely
Stunning Fitness instructor Sheila (Abigail Mac) leads a class full of lovely ladies through a hard and sweaty workout, as their supple asses shake and their juicy tits bounce. One of the girls, cutie Jennifer (Scarlett Sage) seems to be having trouble keeping up, but she gets a break when Sheila has the girls take five. Gorgeous Stacey (Carter Cruise) walks up to Sheila and asks her who the new girl is, gesturing towards Jennifer. Sheila explains that she met her at the grocery store and that she and her husband are new to town. They both leer at the nervous Jennifer while she stretches. Biting her lip, Stacey bets Sheila that she could get that leotard off of Jennifer before the end of class and walks away smiling. As the ladies get ready for the second half of the workout, Stacey takes her place beside buxom beauty Erin (Ryan Keely), telling her that 'It's on,' and pointing towards Jennifer. Erin smiles wickedly, adding that she loves a good challenge before the two move up in the studio to stand on either side of Jennifer.Sheila tells the ladies that it's time for some...deep stretching, adding that the girls need to choose partners. Stacey and Erin immediately sidle up on either side of Jennifer, telling her that they're both going to be her partners and that they're going to make sure that she's totally stretched out. Erin takes Jennifer's arm, leading her into some increasingly risque stretches. As they guide her through the stretching, they caress Jennifer's body. Soon Erin takes Jennifer's head and rests it between her supple tits, telling her that the workout studio is a nice break from everyone's husbands. Just then, Sheila announces that it's time for the weights. As the class gets into some tricep exercises, Sheila walks around to check everyone's form. Satisfied with their amazing feminine forms, Sheila returns to the front of the class and announces that since they are all working so hard, they can shed some clothes if any of them want to be more comfortable. Immediately, everyone in the class strips off their tops, revealing a room full of luscious breasts. The only one with her top still on, Jennifer looks around in shock. Erin and Stacey try to convince Jennifer to take her top off, telling her that she'll be a lot more comfortable, but Jennifer is still hesitant. Finally, Jennifer, realizing that there's no reason to be shy in front of other women, peels her top off, setting her perky little breasts free.The workout continues and Sheila approaches Jennifer, offering to show her a different exercise that will help her way more than this one. With a lusty smile, Sheila instructs Jennifer to squat down in front of her. Jennifer does, but Sheila wants her to squat lower, and before Jennifer can think, Erin and Stacey are there to help, each cupping one of Jennifer's firm ass cheeks as she squats lower and lower. Sheila tells Jennifer that she'll need to take a closer look and lies down between Jennifer's legs, looking up at her pussy as Jennifer continues to squat. Sheila caresses her ass as Stacey and Erin encourage Jennifer to work that booty. All three stroke Jennifer's butt as she bends even lower, her camel toe grazing Sheila's lips. As Jennifer pants in exertion, the ladies definitely feel like it's getting hotter and hotter in there. But Sheila needs a better look and suggests that they remove some of the extra fabric of Jennifer's leotard so that they can...examine her form better. Jennifer is reluctant to shed the rest of her leotard, but when Stacey says that they can all take off their clothes to make her feel more comfortable, Jennifer agrees and slides off her leotard completely, giving the ladies their first glimpse of her tight pussy.Stacey and Erin tell Jennifer to do a nice deep squat over Sheila, who is still lying between her legs. Jennifer squats, bending deeper than ever. Every time she bends down, Jennifer's naked pussy touches Shelia's mouth, who tongues it lightly with each squat. Jennifer gasps. By now, the girls have drawn a crowd, and the rest of the class stands around them, entranced by the special exercise. The next time Jennifer goes down for a squat, Stacey and Erin have her hold it and Sheila licks Jennifer's pussy hungrily. Jennifer moans, swept up in the ecstasy of Sheila's tongue. When Jennifer rises with shaking legs from that latest, orgasmic squat, Sheila suggests that they bring in some mats to stretch Jennifer out properly. The girls set up some mats and form a circle around Jennifer, telling her to lie down and relax. Sheila tells the girls that they really need to stretch Jennifer's hips. Stacey and Erin don't waste any time in taking the hint, and hold open Jennifer's legs. Sheila begins to lick Jennifer's pussy as Stacey and Erin hold her legs and the rest of the class looks on. But they're just getting started and before long Sheila's tongue won't be the only one slurping on Jennifer's clit. These ladies are about to give the new girl in class a hardcore workout that she'll never forget...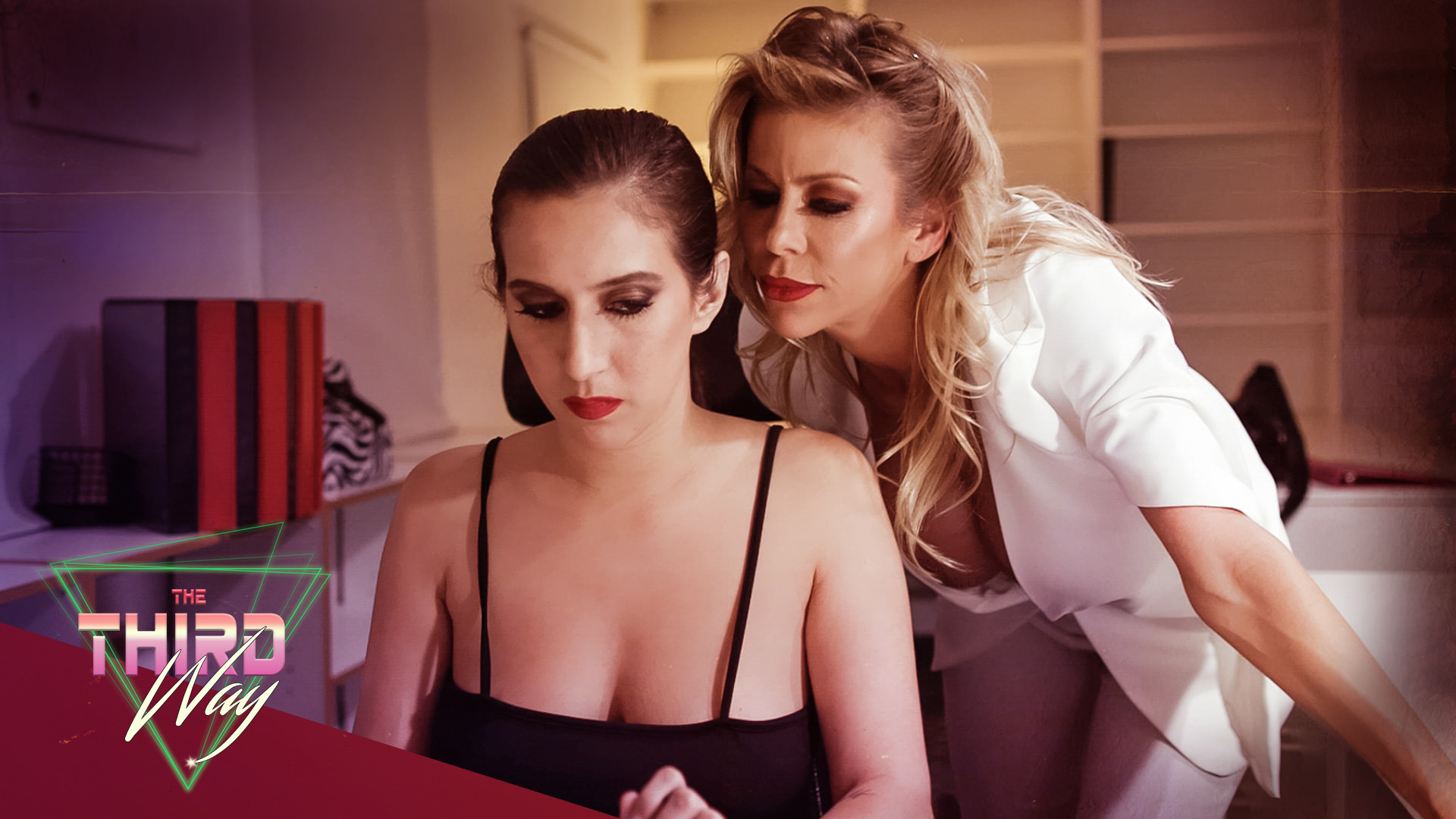 Girlcore | S1 E3 | The Third Way, Scene #01
Starring
April ONeil
,
Alexis Fawx
Jane (April O'Neil) is sleeping when her bedside phone rings and wakes her up. When Jane's boss Veronica (Alexis Fawx) wants her at the office, she has no choice but to get dressed and get herself there pronto, despite her boyfriend's protests.Jane knocks on the door and her boss is right there waiting for her. She stares at her blankly, asks her to sit down and start typing. But Jane can't keep up and Veronica is furious. She looks at her subordinate for a moment and can't believe what she's wearing. The girl looks like she's about to go to the gym! Veronica scoffs at her appearance and tells her she's certainly pretty enough to fix herself up properly. Does she need her boss to do everything for her? Veronica certainly thinks so!She leads her to the next room where she has a dress waiting for her. As Jane tries to leave the room to change, Veronica raises her voice telling her there's no need for that, she'll be changing here. Her eyes emanate control, no is not an option. If the boss wants Jane to get naked, she'll do what she is told. As she takes off her clothes, Veronica is sitting on the couch enjoying the view. Her eyes pierce through Jane's soul, Jane feels uncomfortable but knows she must proceed.Veronica gets up and pulls the elastic off Jane's hair and starts applying makeup on her face. She's going to make Jane look like a real business woman if it's the last thing she does. She paints her toenails and gives her a pair of high heels. Now that she fits the part, it's time to get some work done. Jane sits down and starts typing again but when her boss can't stop looking at her, it looks like the girls will be working overtime in more ways than one!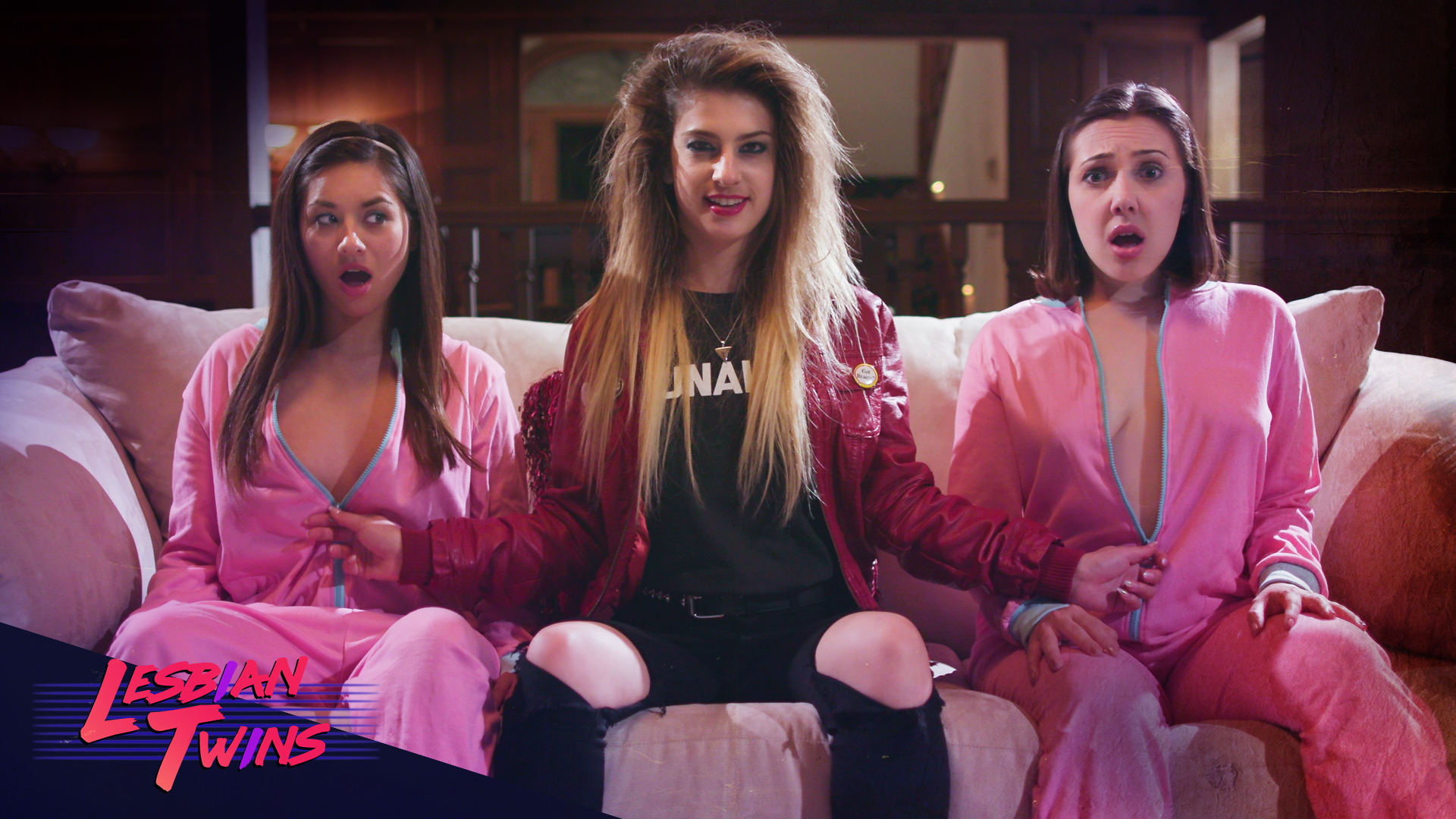 Girlcore | S1 E4 | Lesbian Twins, Scene #01
Starring
Shyla Jennings
,
Jenna Sativa
,
Kristen Scott
The last thing Miranda (Kristen Scott) wants to do is meet her dad's new girlfriend, Marjorie (Chanel Preston). She's NOT impressed by the whole thing, so she does everything she can to grind his nerves. Even while sitting in the car in front of Marjorie's home, she ignores her father (Tommy Gunn) as he begs for her to be on her best behavior this weekend.In a huff, Miranda leads the way to the front door. Marjorie sweetly greets her, though Miranda's not won over by her charm. She's even less hyped about the whole weekend when it's revealed that Marjorie has two twin daughters. Great, it looks like Miranda's going to have to babysit.Her bitterness turns into morbid curiosity as the two practically identical teenage girls descend the staircase with their hands clasped together. Becky (Jenna Sativa) and Vicky (Shyla Jennings) are bright and cheerful, wearing cutesy pink and white dresses that make Miranda want to gag.When Marjorie announces that it's dinnertime, Miranda's thankful for the distraction. As she jabs at her sushi, she eyes the twins sitting across from her. There's something... off... about them, but she can't quite place a finger on it.She reaches down to the foot of her chair where her bag is, hoping that she remembered to pack a snack, and catches the twins holding hands beneath the table. She was NOT expecting to see that! Unaware of what's going on, Marjorie brings up how she and her late husband adopted the two girls, from two different countries, to give them a fresh start. 'So they're not even real twins?' Miranda asks with raised brows.A mischievous idea starts forming in Miranda's mind...After dinner, they all move to the living room to settle down and watch a family movie together. Miranda enacts her plan and insists that her dad and Marjorie go out on a date. They don't get to see each other often, so why not take the chance? She and the girls can take care of themselves while they're out. Although the parents are hesitant at first, they're excited at the idea of a change of pace... which is exactly what Miranda is counting on. It isn't long before her persuasive powers have them scurrying out the door like giddy teenagers.Once the girls are alone, Miranda grins and begins the seduction. She puts on a 'romance' movie, but it quickly becomes obvious that it's just lesbian smut. Becky and Vicky are uncertain about what's unfolding, especially once Miranda starts simultaneously caressing their hands and knees, but they don't tell her to stop. Although Becky and Vicky seem so innocent, they gradually become aroused as Miranda palms their cute pussies through their clothes, casting them sly looks. Now she sweet talks them into kissing each other, knowing that they're attracted to each other. She takes those sweet darling twins and brings out a rebellious side they've never seen before as they lose themselves in a fiery threesome.Maybe this weekend won't be so bad after all.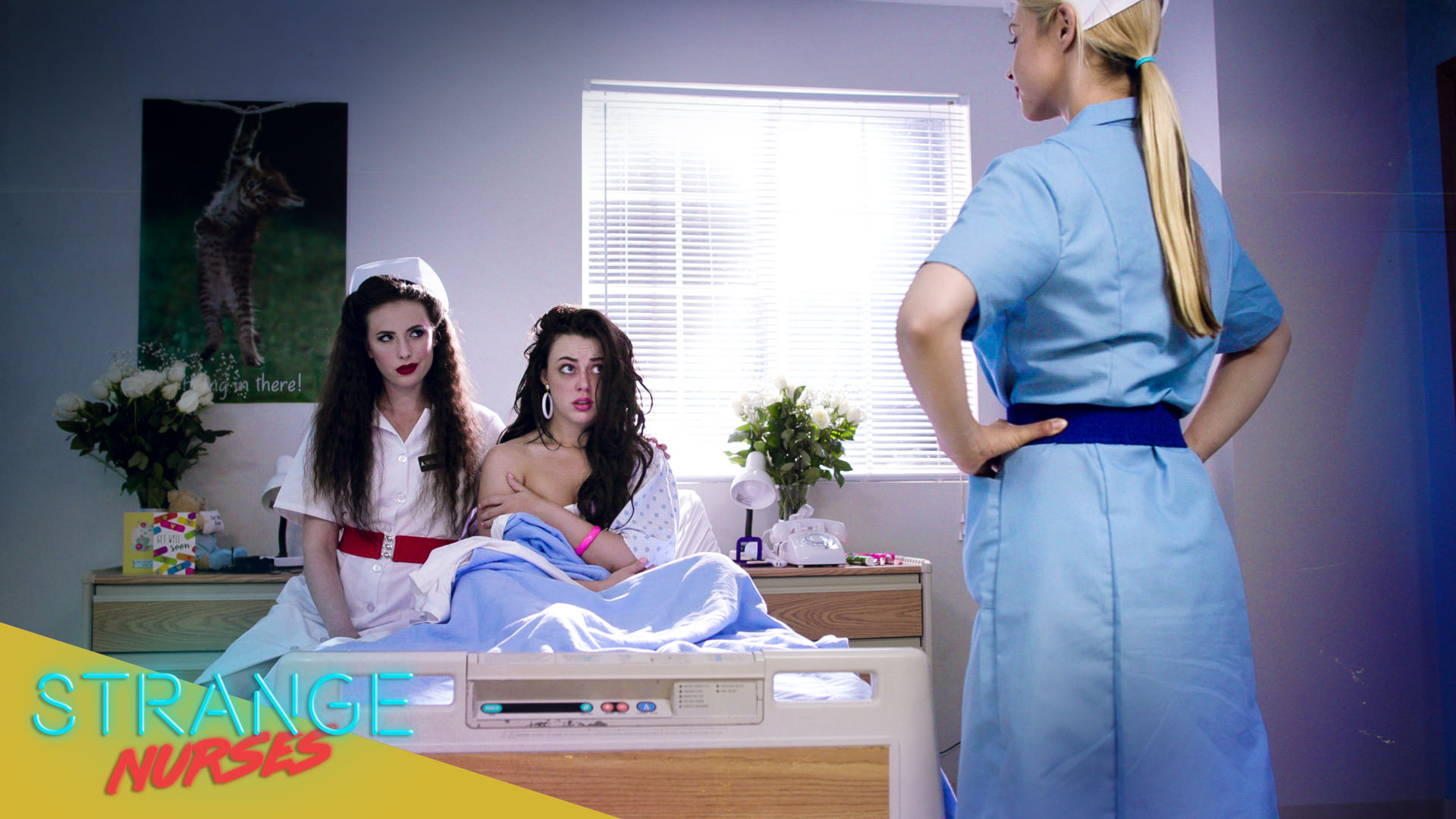 Girlcore | S1 E5 | Strange Nurses, Scene #01
Starring
Casey Calvert
,
Sarah Vandella
,
Whitney Wright
Tiffany Weston (Whitney Wright) is lying in bed recovering from a nose job. Nurse Wheeler (Casey Calvert), walks in and asks her if she's ready to take off her bandages. Whitney nods in agreement as Casey takes great care to ease them off and not hurt her in the process. Casey tells her how beautiful she looks but when Tiffany looks in the mirror she gasps - 'gag me with a spoon!' she laments, she thinks she looks awful! Nurse Wheeler assures her that she's being ridiculous and that it's just bruising, it'll heal in no time - she looks great. Before she leaves the room, Nurse Wheeler reminds Tiffany that she should get some rest, so she can properly heal. Nurse Wheeler comes to visit her throughout the day and it's clear that there's a bond between them, but their pleasant visits are interrupted by the arrival of a rigid, authoritative lady doctor Dr. Mills (Ryan Kelly) who comes and removes her bandages - she seems to have a strange fixation towards Tiffany. It leaves Tiffany shaken, but after she leaves, nurse and patient continue to shoot flirty glances to each other. As the girls are about to kiss, they get interrupted and Nurse Wheeler promises to come back later to check up on her.Late into the evening, as Tiffany waits for her favorite nurse, she starts playing with her pussy. When the door opens behind her, she turns around to find a stranger standing by the doorway who introduces herself as Nurse Saunders (Sarah Vandella). Nurse Saunders is direct and cold. She tells Tiffany to disrobe so she can start her physical examination. Tiffany is taken aback by how direct she is and disrobes immediately. Nurse Saunders starts examining her and not being the shy type, grabs her breasts firmly. When she tells Tiffany that it's time to examine her pussy, the teen feels uncomfortable but does what she's told. Nurse Saunders starts examining her pussy stating that she needs to get a closer look. She leans in and starts eating her out. Nurse Wheeler walks in the room and Tiffany is relieved to see a familiar face. She pleads with her saying that there must be some mistake here. Nurse Wheeler responds dryly that Nurse Saunders is just trying to do her job. Tiffany is so confused...What kind of hospital is this? Nurse Wheeler leans in and reminds her that this is what she wanted. She kisses Tiffany and the girls start making out as Nurse Wheeler continues to eat her pussy. When they finish each other off, Doctor Mills walks in the room sternly reminding the nurses that they have a lot more patients to attend to.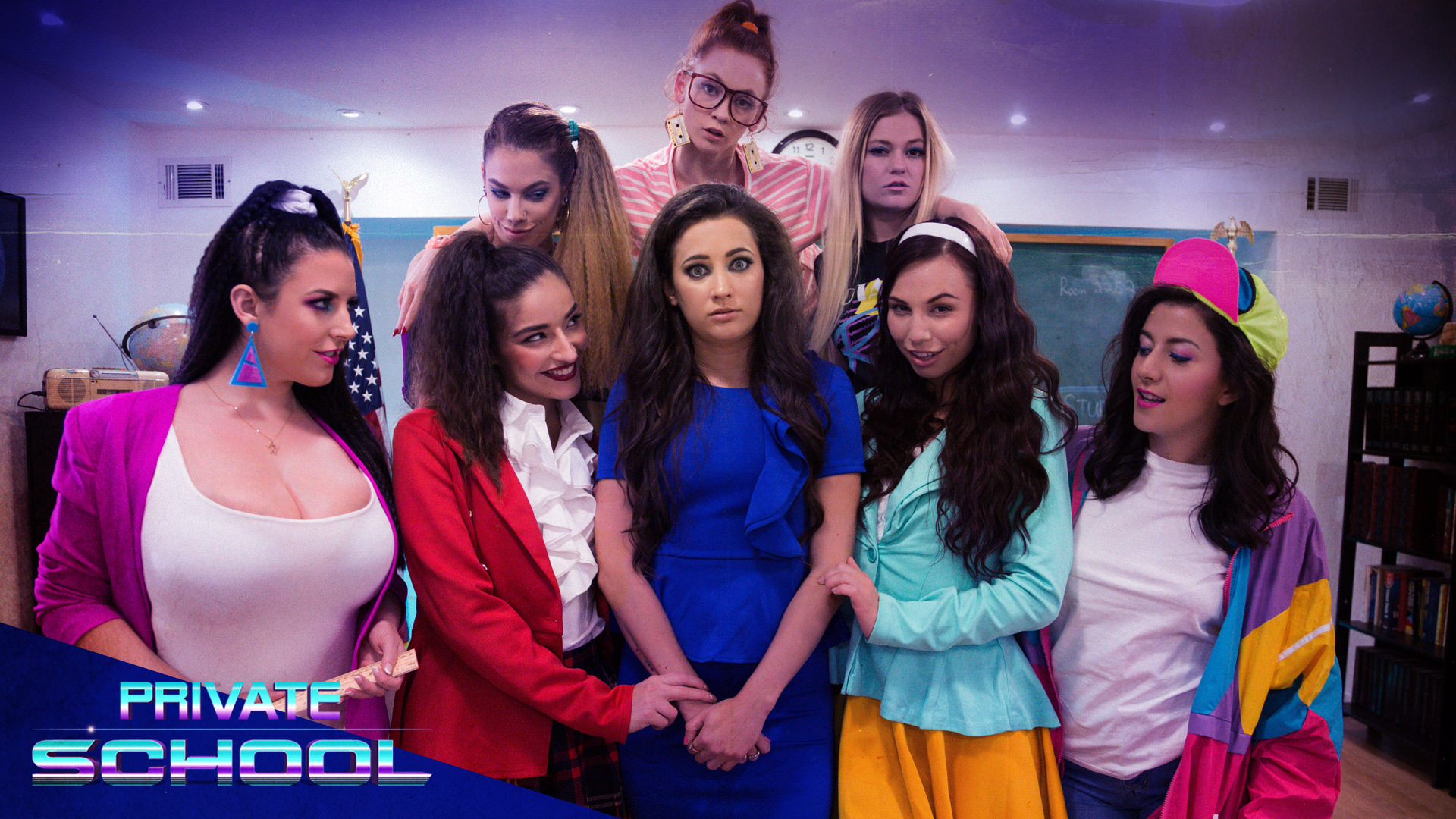 Girlcore | S1 E6 | Private School, Scene #01
Starring
Aidra Fox
,
Georgia Jones
,
Angela White
,
Emily Willis
School is in session as another day in class begins for a rowdy group of ladies at an all-girls high school. As they pass notes and gossip about an upcoming party, the bell rings and the girls' substitute teacher, Miss Virginia Georgia Jones) walks in. Introducing herself, she tells thestudents that they're going to do a little review before she gives them a test. The girls moan and groan. As Miss Virginia writes on the blackboard, Tiffany (Aidra Fox) and Heather (Emily Willis) ready some spitballs to give the new teacher a proper welcome. Tiffany fires one off, hitting theboard right where the teacher is writing. She stops, sighing loudly and turning around just as another spitball hits her face. She demands to know who did it but the girls aren't telling. Heather raises her hand and when the teacher calls on her, she says 'Miss...Vagina, when are you gonna tell us about the lesbians?' The class erupts in laughter. Miss Virginia doesn't appreciate that kind of language, but Tiffany points out that it was supposed to be on their testtoday and their normal teacher talks about lesbians. In fact, their normal teacher LOVES lesbians. Miss Virginia isn't sure what they're referring to but insists that there are no lesbians on the test and the class continues.Later, on a break between periods, Miss Virginia is pouring herself a cup of coffee in the teacher's lounge when Principal Amy (Angela White) walks in. She startles the teacher, who pours coffee on her dress accidentally. As she helps her wipe the stain off of her chest, Principal Amy tells Miss Virginia flirtatiously that she can relate, she's always getting herself wet too. As they chat, Principal Amy tells Miss Virginia that she hopes to find her a more permanent position. Miss Virginia is delighted to hear that but has to rush back to class when the bell rings.Back in class, Miss Virginia instructs the girls to do some independent study before the test. They hit the books, but one of the girls is only pretending to study and is actually reading a smutty paperback novel entitled 'Private School' that she hides behind her textbook. Miss Virginia catches her, but the girl quickly passes the book to a giggling Heather, who hides it down the front of her blouse. Miss Virginia demands that Heather give her the book. Ok, Heather says mischievously, opening up her blouse to reveal the book, along with her lacy little white bra. The class goes wild as Tiffany runs over to Heather and gives her perky tits a little squeeze. Miss Virginia yells at the class to quiet down. They finally listen and Miss Virginia grabs the book, appalled to discover that it's a pornographic novel. She chastises the girls and locks the book on her desk, telling them that it's time for their test.The students start the test, but it doesn't take long for another disruption to break the silence, as a pizza arrives for Heather at the door of the classroom. This is the last straw for Miss Virginia, who dismisses the class, ordering Heather and Tiffany to stay for detention. Principal Amyhappens to be passing by the classroom and asks Miss Virginia what's going on. When she tells the principal that she's disciplining a couple of troublemakers, Principal Amy's eyes light up and she comes into the class, closing the door behind her. When Principal Amy asks Heather andTiffany what they've done to get detention, the giggling girls tell her that they were looking at a book...about lesbians. Principal Amy smiles wickedly, asking if the book was...pornographic? The girl's lusty smiles are answer enough. The principal tells the girls that she knows just what they need as she removes a ruler from a drawer and smacks it on her wrist: they need to be punished. She asks Miss Virginia to clear the desk for their punishment, but the teacher is reluctant. Tiffany and Heather are far from reluctant though, and they take off their cardigansand bend over the desk, throwing up their skirts to expose their supple little asses. Miss Virginia still doesn't think that they need to go this far, but Principal Amy reminds her that she wants to give her a permanent position. And for her to do that, she needs to see what kind of woman Miss Virginia is. She hands the teacher the ruler, asking her to do the honors. Miss Virginia still isn't so sure, but the girls, eager for their punishment, reassure the teacher, telling her that they deserve to be punished. Miss Virginia, worried that she won't get the permanent position unlessshe demonstrates her authority, begins to smack their asses. She's tentative at first, but soon she's spanking their cute butts hard as the girls gasp in delight.Principal Amy looks on approvingly. But she can't let Miss Virginia have all the fun, so she rolls up her sleeves and jumps in, grabbing a handful of the girl's juicy asses as she spanks them. They moan with pleasure. As she dishes out their punishment, the principal wants to make sure that Tiffany and Heather have been keeping up with their physical education and has them strip down. The girls peel their clothes off to reveal their tight teen bodies. Principal Amy sits on the desk and has Tiffany lay across her lap for some more discipline. Heather's eager to help and spreads Tiffany's beautiful ass cheeks before spanking her again. Principal Amy sees Miss Virginia looking on, shocked but definitely intrigued. Not one to make the new teacher feel left out, the principal tells the girls that they are so lucky to have such a beautiful teacher, so why don't they help her off with her clothes and show her their appreciation? The girls do as they're told and slip her clothes off, as Miss Virginia lies down on the desk and they spread her legs. Tiffany begins to eat her pussy as Heather climbs up and rides Miss Virginia's face. Soon, Principal Amy strips off her shirt, letting her luscious tits loose and joins in on the action. This may be Miss Virginia's first day, but she's about to find out that this is just another typical day of classes at Girlcore Private School...